Power Bond Adhesive 1s - 2s
Eyelash glue in 1s – 2s drying time. Available in 5ml
Power Bond Adhesive 1s - 2s
▪ Extra strong durability
▪ Seamless and quick drying
▪ Shelf life of 7 – 8 weeks
▪ Optimal humidity 45% - 60%
▪ Optimum temperature 18 to 28°C
▪ Color: Black and Clear
▪ Vapors and Irritation: Low
▪ Shelf life unopened 12 months, opened 1 month.

Drying time(s):
• 25-45% humidity (2 - 3 seconds),
• 45-60% humidity (1 – 2 seconds),
• 60%+ humidity (immediately; not recommended)
Regular price
$44.00
Sale price
$31.00
Unit price
per
Sale - Jetzt $13 sparen
Sold out
---
Inhalt & Inhaltsstoffe

Ethyl cyanoacrylate 92 – 98%, Poly(methyl methacrylate), Carbon Black

*** The eyelash glue is for professional use only.***

FORMALDEHYDE-FREE AND LATEX-FREE - Our Jashara eyelash glue has been tested and approved according to the EU standard
View full details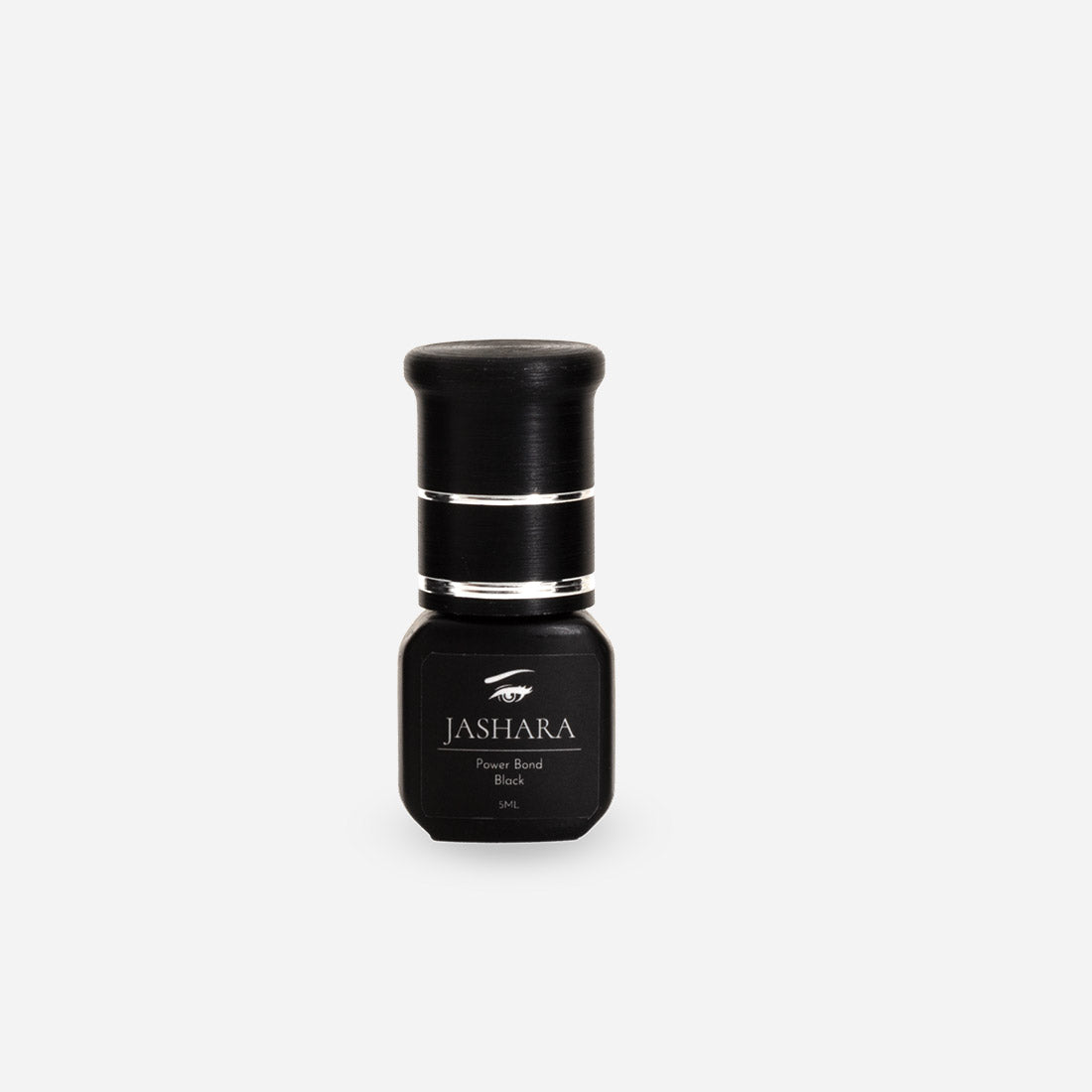 Produktbeschreibung
✔ Seamless and quick drying - consists of a slightly liquid consistency with a moderate curing time of 1 - 2 seconds. It blends effortlessly with the natural lashes.
✔ EXTRA STRONG DURABILITY - Power Bond Adhesive has an adhesive composition that stays stable for up to 8 weeks! It is flexible and can be used for both single eyelash extensions and fans.
durability
7 to 8 weeks, with correct application and care of the eyelashes

Optimum humidity during use
45% - 60%
Drying time(s):
25-45% humidity (2 -3 seconds),
45-60% humidity (1 -2 second),
60%+ humidity (immediately; not recommended)

Available in 5ml
In low and medium humidity conditions, the use of Jashara Glue Aid is recommended to speed up the drying time.
Optimum application temperature
18 to 28°C
fumes and irritation
low
Color
Black
durability
unopened 12 months, opened 1 month
Ingredients: Ethyl 2-cyanoacrylate, Poly(methyl methacrylate), Carbon Black
Recommendation for use
✔Always shake well with the Jashara Glue Shaker before use. Change glue point every 30 minutes depending on room temperature and humidity.
✔ After use, put it back in the thermal bag or in the JASHARA LASHES Adhesive Container with silica gel or dry rice.
✔Protect from high temperatures.
Make sure the lid is clean and tight after each use. Using sticky towels is a great way to keep the nozzle clean and free from clogs.
✔ Do not store together with other products, as these may contain ingredients that polymerize the eyelash glue.

✔ For optimal strength, you should replace the eyelash glue every 30 days, regardless of how often it has been used.
Ideal to combine with Jashara Anti Allergy Gel to lower fumes and minimize irritation.
*** The eyelash glue is only suitable for professional use.
FORMALDEHYDE-FREE AND LATEX-FREE - Our Power Bond Adhesive has been tested and approved according to EU standards.
For professionals
When an eyelash glue is
It is a highly potent superglue that was developed for professional use in eyelash extensions. The right eyelash glue is crucial for professional eyelash extensions and for
your success as an eyelash stylist.
EU Standard
Die Jashara Wimpernkleber für die Wimpernverlängerung sind auf dich und deine Anforderungen zugeschnitten und entsprechen den höchsten qualitativen Standards. In der Schweiz und der EU gemäß REACH, CLP und der BfR Verordnung registriert & zugelassen.
correct application
How do I apply the eyelash glue
professionally? It is important to ensure that the eyelash glue is always
is well sealed as it hardens very quickly. Next it helps the glue
Shake well before use and use a steady hand when applying
to preserve.

Since the eyelash glue dries faster in high humidity, its
Durability and efficiency directly depend on it. For best results, we recommend a
Hygrometer (humidity meter) to measure the temperature and humidity
can be adjusted in the studio.
MOST FREQUENT QUESTIONS
What are the main ingredients of your eyelash glue?

Ethyl cyanoacrylate, PMMA (polymethyl methacrylate), carbon black

"All eyelash glues differ in percentage of the ingredients mentioned above"
Is there also an adhesive that does not contain cyanoacrylates?

Not at the moment, but we are trying to add an eyelash glue without cyanoacrylates to our range in the near future.
What do I have to do if my customer is allergic to the eyelash glue?

First of all, it must be determined whether it is really an allergic reaction. You can recognize allergic symptoms in eyelash extensions as follows:

-Dryness of the mucous membrane
-Pink sclera (eye white)
-Redness, swelling, itching in the eyelid area
-Allergic rhinitis (runny nose, sneezing)
-Allergic cough

Allergy symptoms appear immediately or within the first 24 hours after treatment. The appearance of unpleasant sensations on the second, third or later days are the consequences of incorrect treatment!

If all of the above are true, you can do the following:

- Advise your customer to take an over-the-counter anti-allergy pill to reduce allergic reaction.
- Advise your client to use eye drops for the first 2 days after the treatment, these can be bought at the drugstore.
- Do not remove the eyelash extensions straight away! If you remove the eyelash extensions during the symptoms, the symptoms will worsen because the remover also contains chemicals.
- If the customer has breathing problems, call a doctor immediately and remain calm until help arrives.

An allergic reaction usually stabilizes after 1-3 days, if the symptoms persist your customer should consult a doctor.
I have problems with the durability of the eyelashes, which glue would you recommend?

There is not "the best glue" but "the right glue"!
When choosing the right eyelash glue, please note:

• Room temperature and humidity
• Active ingredients
• Drying time
• Consistency
• Fan technique
• BRAND
• Fumes

There is no bad eyelash glue. It's not the eyelash glue, it's how you use the eyelash glue.
Happy customers
TOP QUALITY ★★★★★

I love your products =) Really great to work with. Your products are really great. No burning, no sticking. Thanks for the great products. I'm super happy. =)

- Jasmine

The eyelashes are HIGHLY RECOMMENDED!!! ★★★★★

I have tested the eyelashes and will now recommend them. I've tried many in this price range but these are beautiful and the durability is very good. Absolutely delighted for the price.

- Dilan

TOP PRODUCTS ★★★★★

The lashes are just great like everyone else. They are super easy to remove from the strip and very easy to attach. The durability is great too. I can only recommend.

- Elaine
Why Jashara?
Perfect lashes

Hygiene, professionalism and quality of work are our top priority! The eyelash products used comply with the latest European regulations and quality standards.

Safety & Quality

Jashara eyelash products are tested and approved according to EU standards and MSDS. The products are not tested on animals and vegan.
(Registered & approved in Switzerland and the EU according to REACH, CLP and the BfR regulation)

Formaldehyde & latex free

Our eyelash glues meet maximum safety standards and are legally registered cosmetic products.

Shipping faster

Delivery time:

CH with you in 1 - 3 days
EU in 3 - 6 days with you

Shipping:

CH/EU from 7 EUR/CHF
Jashara Lashes
Jashara is the inexpensive professional brand for lash stylists.
As a lash stylist with more than 20 certifications, I have tried numerous products. Unfortunately, I was dissatisfied with the quality of eyelash products and the corresponding price.
After no suitable products could be found on the market, we founded Jashara to make quality products available at fair prices.
In the meantime, we at Jashara have grown into a community. We celebrate successes together, support each other in exchange and with tips for our daily work.
About Us
Jashara Newsletter
Find out about our sales and new products: We only send you the best offers!
You always want to be up to date, receive discount offers & don't miss any information?
Then subscribe to our newsletter!